Brett Hearn won five Super DIRT Week titles between 1985 and 1995, but it wasn't until he spent 17 years trying to win it again that he fully understood the significance of the victories.
He had the formula for what it took to win the prestigious event but when that formula stopped working and the trials and tribulations set in year after year until his sixth victory in 2012, Hearn truly understood the hardships he and every other driver pour into their efforts to win Super DIRT Week.
"I won the first five between '85 and '95 and then I found every which way you can possibly lose the race until 2012 when I won the sixth one," he said. "It is an incredible amount of work to be ready and prepare for that week. It's a multi-day event. There's a lot of other things going on. And you want to give it your best shot.
"Everyone shows up at Super DIRT Week with new equipment, fresh paint jobs, so their focus is 100 percent on that week. Of course, it is a lot of work but that was my conclusion that it really is much harder than what I thought it was when I won the first five."
This year, there's an added level of pressure to win with it being the historic 50th Running of NAPA Auto Parts Super DIRT Week, Oct. 3-9. And Hearn, now 63-years-old, has no plans of missing it.
While he holds the most Big Block wins at Super DIRT Week, the Hall of Famer has yet to secure a win at the event's new home – Oswego Speedway. He finished second in the events debut at the "Steel Palace" in 2016 and then third in 2019.
"It's hard to replicate what the (Moody) Mile was because it was such an enormous track," Hearn said. "Super DIRT Week at Oswego, for me, is really fun. I love the way this track races. The way the banking is progressive, and the grooves change normally. So, it races really really well.
"I'm grateful that World Racing Group was able to put this package together and continue the tradition we started in 1972 – doing it at Oswego with its great camping and truly a great race track to race at."
For Hearn, the event is special as a fan, having gone to the race since 1976, and as a driver, stating the importance it had on his career.
"It was really a career changing moment for me," Hearn said about his first Super DIRT Week win in 1985. "To not only etch my name in history of the race for the week, but to also establish myself as a professional in the sport. Being that it is a pinnacle of the sport, winning that thing was a game changer for my career."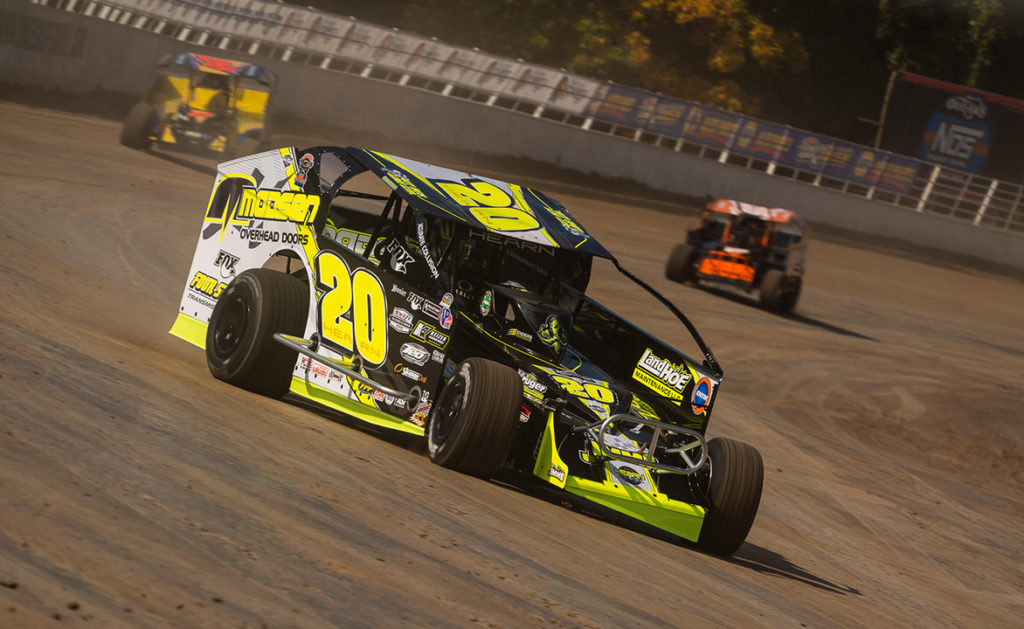 Since then, he added he's only seen the event grow, adding more prestige with television coverage and attracting high-profile drivers from other series like Geoff Bodine, Sammy Swindell and Ken Schrader – who will return to Super DIRT Week this year with Kenny Wallace to participate in the Pro Stock events.
While Hearn hasn't fully retired from racing yet, picking up his 450th career dirt Modified victory during World Finals at The Dirt Track at Charlotte in November, he only runs a handful of races a year. With that, he said he'll take all the practice he can get. And fortunately for him, there will be multiple opportunities for that this year at Oswego.
There will be Super DIRTcar Series practice on Wednesday, Oct. 5., followed by a special Super DIRT Week Past Champions race on Thursday, Oct. 6, which Hearn will be participating in. There will be another Super DIRTcar Series practice session on Friday, Oct. 7 before Time Trials and Qualifying Heats. Then, the 50th Super DIRT Week Big Block winner will be crowned at the Billy Whittaker Cars 200 on Sunday, Oct. 9.
Along with the $50,000 payday, the winner of the 200-lap Big Block race will also receive a one-year-only, one-of-a-kind, trophy that represents the event's 50 years of history.
Upon first sight of the trophy, it was like Hearn understood all over again the significance of winning Super DIRT Week.
"That thing is amazing," he said while gazing at the golden trophy. "I've got a couple of these things from Super DIRT Week, but that takes the cake. That thing is absolutely amazing. It is beautiful and I have a brand-new office that that would look good in."
For tickets to the 50th Running of NAPA Auto Parts Super DIRT Week, CLICK HERE.
If you can't make it to the event, you can watch the entire week of racing live on DIRTVision – either online or by downloading the DIRTVision App.