Williamson will aim to be the third driver in history to win three straight Super DIRT Week Big Block Modified titles
Upon Mat Williamson's approach to try and win his third straight Super DIRT Week title, he's left with more uncertainties than years past.
Tracks he and his Buzz Chew Racing team expected to run well at, they haven't. Yet, where they expected to struggle, they've succeeded.
His overall performance has him currently sitting second in Super DIRTcar Series points (-155 points behind Matt Sheppard). However, with his last three finishes being outside the top 10, he enters the 50th Running of NAPA Auto Parts Super DIRT Week with less momentum than the two years prior when he won it.
"We've been struggling a little bit this year," Williamson said. "Hopefully we get better at Fulton (Speedway during the Outlaw 200) this weekend and have some momentum throughout the week at all the satellite show and have some momentum going into Sunday (Oct. 9, for the Billy Whittaker Cars 200)."
Last year, a postponed Super DIRTcar Series race at Brewerton Speedway opened Super DIRT Week, which Williamson won and helped propel his streak of victories throughout the week at the satellite events and then the 200-lap main event at Oswego Speedway. He'll be without that privilege this year.
However, being a Super DIRT Week Big Block Modified champion offers him the chance for extra laps around Oswego Speedway this year. Before Sunday's Feature there will be a special Past Champions Race Thursday night. Williamson along with other former Super DIRT Week Big Block champions, such as Matt Sheppard, Stewart Friesen, Larry Wight, Richie Tobias Jr., Kenny Brightbill and more will compete in the $2,500-to-win, 25-lap, race.
"It's cool to have the Kenny Brightbills and the older past winners racing in that," Williamson said. "Gives the fans something to look forward to. It also gives us more track time. Gives us another race where we kind of get two Heat Races while everyone else gets one. And it pays pretty good money. We'd like to be the best of the best, per se, and try to win that 25 lapper."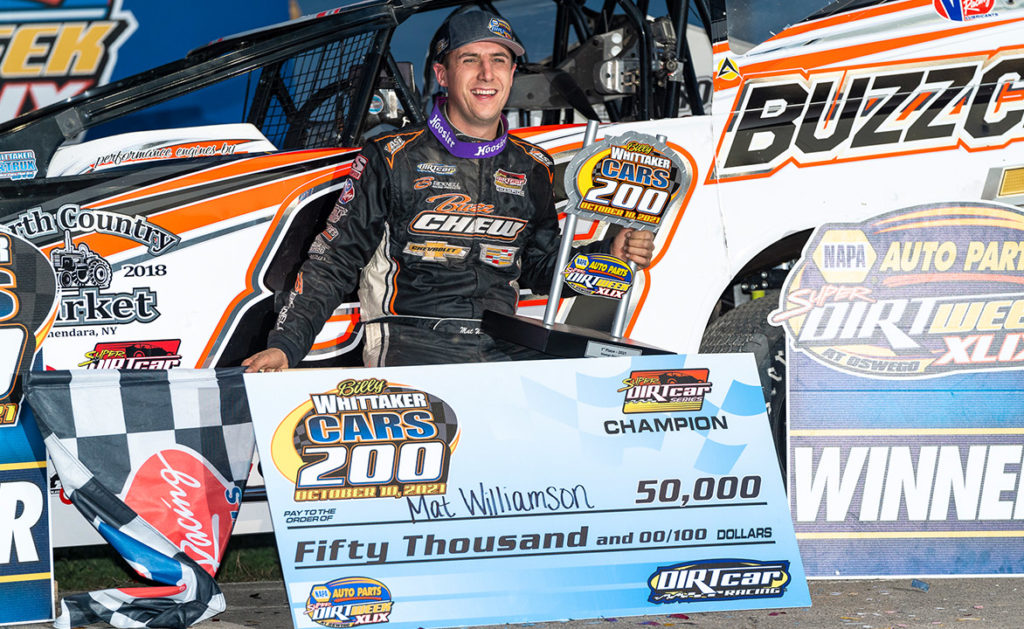 While he's searching for confidence in his performance, entering Super DIRT Week as the two-time and defending champion doesn't hurt.
"The fact that we've won two races in a row at (Super) DIRT Week is pretty cool," Williamson said. "Three in a row is going to be tough. It is no easy task. Winning three anywhere in a row is no easy task. The fact that we've done it twice shows myself that we can do it. Shows the team we can do it. Makes you work a little bit harder than what you would have."
His win last year proved to him more than ever the key to being patient in the 200-lap race. He inherited the lead with 50 laps to go last year after the two leaders crashed out.
"Last year, the Peter Britten-Tyler Dippel situation showed you need to be patient," Williamson said. "It teaches you that you need to be there the last 15-20 laps. Be in a good position to win. You need to be in the top three, top four. Hope for a late race restart if you're not leading and take advantage of those situations. You can't be impatient in 200-lap races. You need to hold back your thoughts and treat the last 10 laps like you would the first 10."
Upon Williamson's approach to try and join Gary Balough and Stewart Friesen as the only drivers to have won three straight Super DIRT Weeks, he'll have one thing at the track he hasn't had the last two years – all his Canadian friends and family with the border now open.
"It's cool for me, too, right?" he said. "My family and friends couldn't come last year or the year before. I was almost racing alone. I had a few crew guys fly in. My dad flew in. But now this year, being able to bring campers from Canada and being able to come in like normal, hopefully everyone can go down there and enjoy the week and get back to some normalcy after a three-year pandemic."
For tickets to the 50th Running of NAPA Super DIRT Week at Oswego Speedway, Oct. 3-9, and the full schedule of events, CLICK HERE.
If you can't make it to the track, you can watch all of Super DIRT Week live on DIRTVision – either at DIRTVision.com or by downloading the DIRTVision App.