Phelps eyes another Weedsport Speedway victory this weekend during the Cavalcade Cup Weekend, Sept. 10-11
There's a point every year where a driver and his team either have the confidence they need to win or don't, according to Super DIRTcar Series veteran Jimmy Phelps.
"Right now, we have it," he said.
Phelps, of Baldwinsville, NY, is still riding the high of his Hall of Fame 100 victory at Weedsport Speedway in August with the Cavalcade Cup Weekend up next for the Super DIRTcar Series, Sept. 10-11, and the 50th Running of NAPA Auto Parts Super DIRT Week less than a month away (Oct. 3-9).
The victory was meaningful in multiple ways for Phelps as he hadn't won a Super DIRTcar Series race at the track since 2010 and hadn't won a points-paying Feature with the Series since 2019. Also, his team Heinke-Baldwin Racing– co-owned by Al Heinke, who also owns Weedsport – is based on the track's property.
"Weedsport was one of my home tracks at the start of my Modified career, going back to the mid-90s," Phelps said. "Probably the most success we had in a Big Block was at Weedsport. Then, we had some really good runs but just weren't winning. We won a Small Block race in 2015 and won a Small Block race again this year a couple weeks prior to the Hall of Fame 100 win. But we weren't winning Big Block races to the point it was almost comical. We spend half our life on the property and weren't winning Big Block races. It was just a huge relief to finally get up on that hill and during a big event and do it for real."
Phelps started off the year strong during DIRTcar Nationals in February, picking up a Feature win and claiming the DIRTcar National Big Gator title. Then, when racing kicked off in the Northeast, he struggled to find consistency. It wasn't until July and his Hall of Fame 100 win that he felt like the team was hitting its stride again, he said.
Now, they have nothing but confidence for the remaining Series events, each a marquee race: Cavalcade Cup Weekend at Weedsport Speedway (Sept. 10-11), Malta Massive Weekend at Albany-Saratoga Speedway (Sept. 24), 50th NAPA Super DIRT Week at Oswego Speedway (Oct. 3-9) and the championship determining World Finals at The Dirt Track at Charlotte (Nov. 2-5).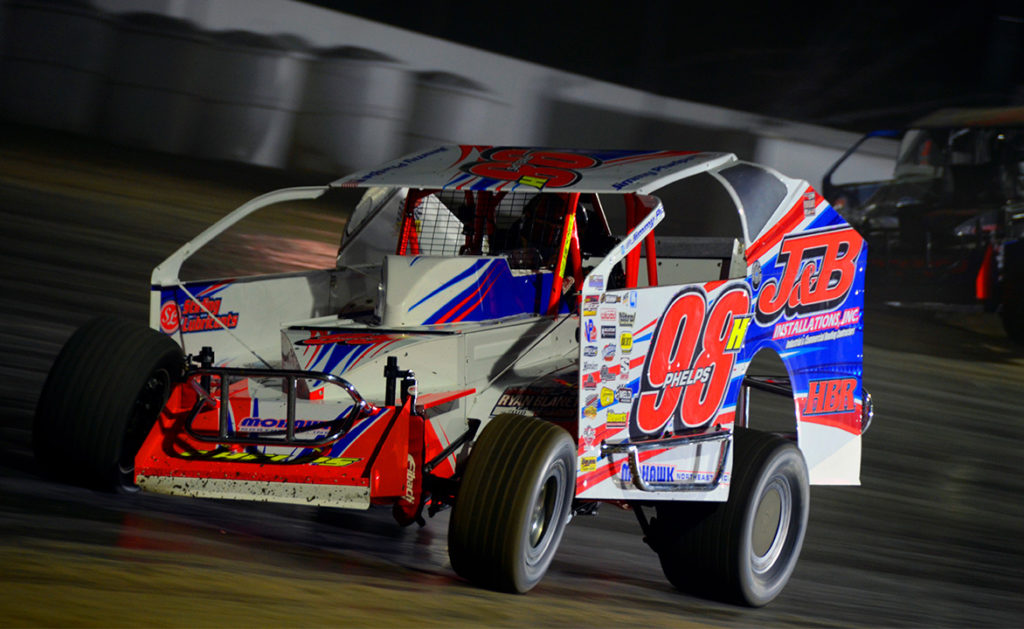 After a couple years of being the sole HBR driver, Phelps gained 22-year-old Max McLaughlin as his teammate again this season – an addition he was excited about before the season started. While they have different driving styles, Phelps said the pairing has been beneficial. He and McLaughlin are able to bounce new and old ideas off each, which he added will be an advantage for HBR going into Super DIRT Week.
"He and I are using each other as a resource, talking feedback," Phelps said. "If one of us is going good, we can migrate toward that (setup). If we're both doing bad, we can work together to dig out of that. Heinke-Baldwin Racing gives us all the equipment we need. We'll fall on each other.
"It's been all positive… It'll be nice to have two notebooks to rely on (at Super DIRT Week). Every time you go on the track, you have to learn from that particular round of qualifying or Heat Race or whatever. When you have two different opportunities within the same camp to learn it helps."
Along with having an extra notebook, both HBR drivers also plan on running a DIRTcar 358 Modified during Super DIRT Week. With the few hundred horsepower difference between a Big Block Modified and 358 Modified, Phelps said there isn't much you can learn from one for the other, but the extra track time will be key.
"Same as back in the Syracuse days, any time you can get on a track you only get to run once a year, or don't run much at all, it's good to have extra laps so the driver gets a little more tuned up as the week goes on," Phelps said. "If you can double that exposure, double those laps early on in the week, I can't see where it hurts at all. I think it is a positive from that front. Plus, it gives us an idea Saturday to see how the track went. How it deteriorated. Gives you a little bit of a head start."
One of the biggest benefits he'll have entering Super DIRT Week this year is his win at Weedsport awarded him a guaranteed starting spot in the Super DIRTcar Series Billy Whittaker Cars 200 on Sunday, Oct. 9.
"It was a huge relief, taking the edge off a little bit, making sure we're in the show," Phelps said. "Obviously, the goal is to Time Trial well, start up front and get your track position. It's nice to know if things go a little sideways on you during Qualifying that you can focus on your race package and not worry about making sure you're doing everything you can to get into a qualifying spot."
He joins L.J. Lombardo, Matt Sheppard and Andy Bachetti as drivers currently locked in. Two more spots are available. One during the final night of the Cavalcade Cup Weekend at Weedsport and the other at the Malta Massive Weekend at Albany-Saratoga.
Phelps won the DIRTcar 358 Modified Salute to the Troops 150 in 2015 but is still searching for his first Big Block Super DIRT Week title and first win at Oswego Speedway. He's banking on changing that with the confidence he and his HBR team have garnered.
"The timing is really good," he said.
For tickets to upcoming Super DIRTcar Series events and the 50th NAPA Super DIRT Week, CLICK HERE.
If you can't make it to the track, you can watch all the action live on DIRTVision – either at DIRTVision.com or by downloading the DIRTVision App.