OSWEGO, NY – Jordan McCreadie, son of Barefoot Bob McCreadie and brother to Tim McCreadie, is poised to carve his own unique place in dirt racing history with the Super DIRTcar Series. 
McCreadie, from Watertown, NY, and his #28 Flack's Hi-Rise Concrete Restoration Big Block Modified have battled all year long with the best drivers in the Northeast going to tracks in New York, New Jersey, Tennessee, and soon North Carolina for the NGK NTK World Finals. He's currently running 13th in the points championship going into the Billy Whittaker Cars 200 on Sunday, Oct. 10.
The road, the tracks, and the competition are tough but through determination and tenacity, McCreadie and his team have made an impressive showing in 2021.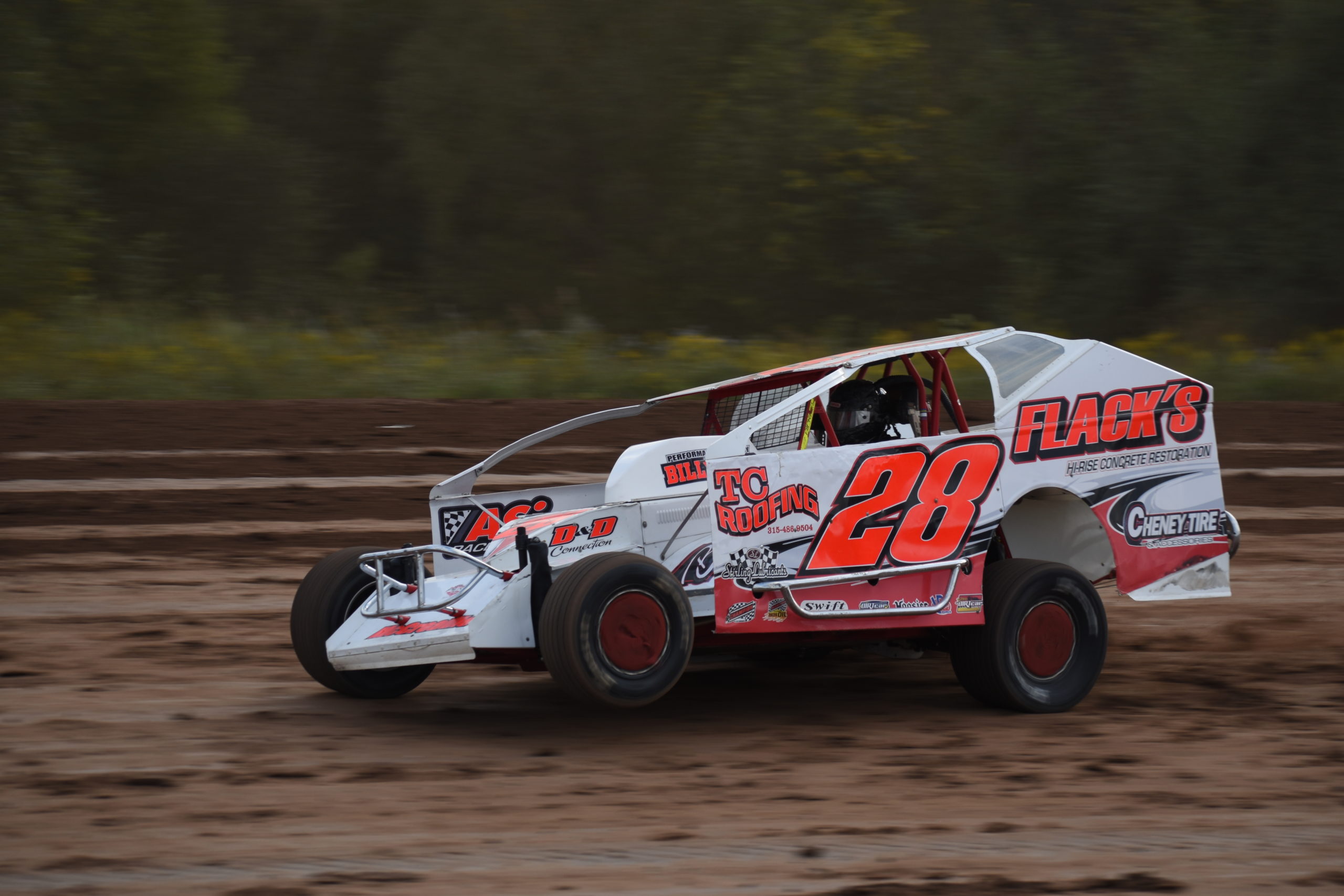 "It's been a little bit nerve wracking for sure," McCreadie said. "Brewerton, for example, is a track we haven't been to all year and even then only with the Small Block. Going around there hammer down last night was pretty cool since it's usually slick."
McCreadie battled in and out of the top-10 throughout the Demon 100 at Brewerton yesterday, Tuesday, Oct. 5. He finished a season-best 11th in the end. 
"We go into races with our baseline and sometimes it works and sometimes it doesn't," McCreadie noted. "We just gotta roll with it and fix it as it comes. We've been doing all right relative to how it could be going. All these guys on the Series are really good. It makes it really hard if you don't hit it right off the get-go."
The rookie class is deep this year on the Super DIRTcar Series tour. Chris Hile is currently the rookie highest in the points standings running seventh and Tim Sears Jr. is 10th. Both of those drivers have a lot of Big Block starts compared to McCreadie. Olden Dwyer has the 14th spot while former DIRTcar Sportsman Modified star Kevin Root is 16th.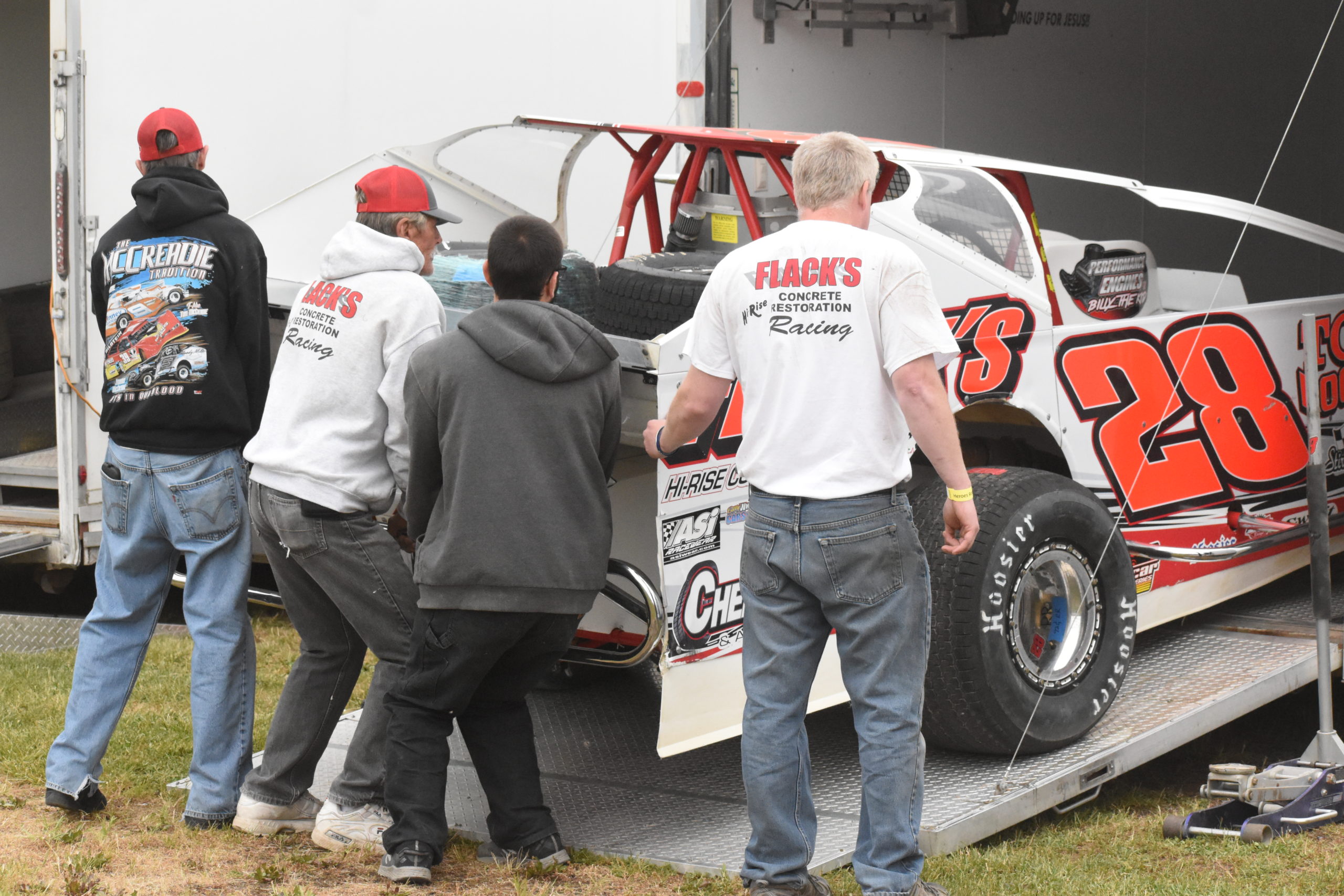 Experience for both team and driver are equally important, especially with the evolving setups and various size and style tracks the Series races on. 
"The tracks change so quick now," McCreadie said. "Brewerton stayed so consistent but that's a rarity. Usually, it slicks off really well. Canandaigua [Land of Legends Raceway] was really tough for the first couple of times. The last time when we got going we knew what to expect. If we'd gone there a few times we would have been prepared for it. The tracks changing so quickly and your ability to adapt are what can set you apart."
With the Demon 100 complete, all eyes of the dirt racing world are trained on Oswego Speedway for the 49th annual NAPA Super DIRT Week. Jordan's father, Bob McCreadie, is one of the greatest legends of the sport. The elder McCreadie won the Billy Whittaker Cars 200 in 1986 and came very close many times after that. Despite that success and the memories made at The Moody Mile, Jordan is a big fan of the event moving to Oswego Speedway.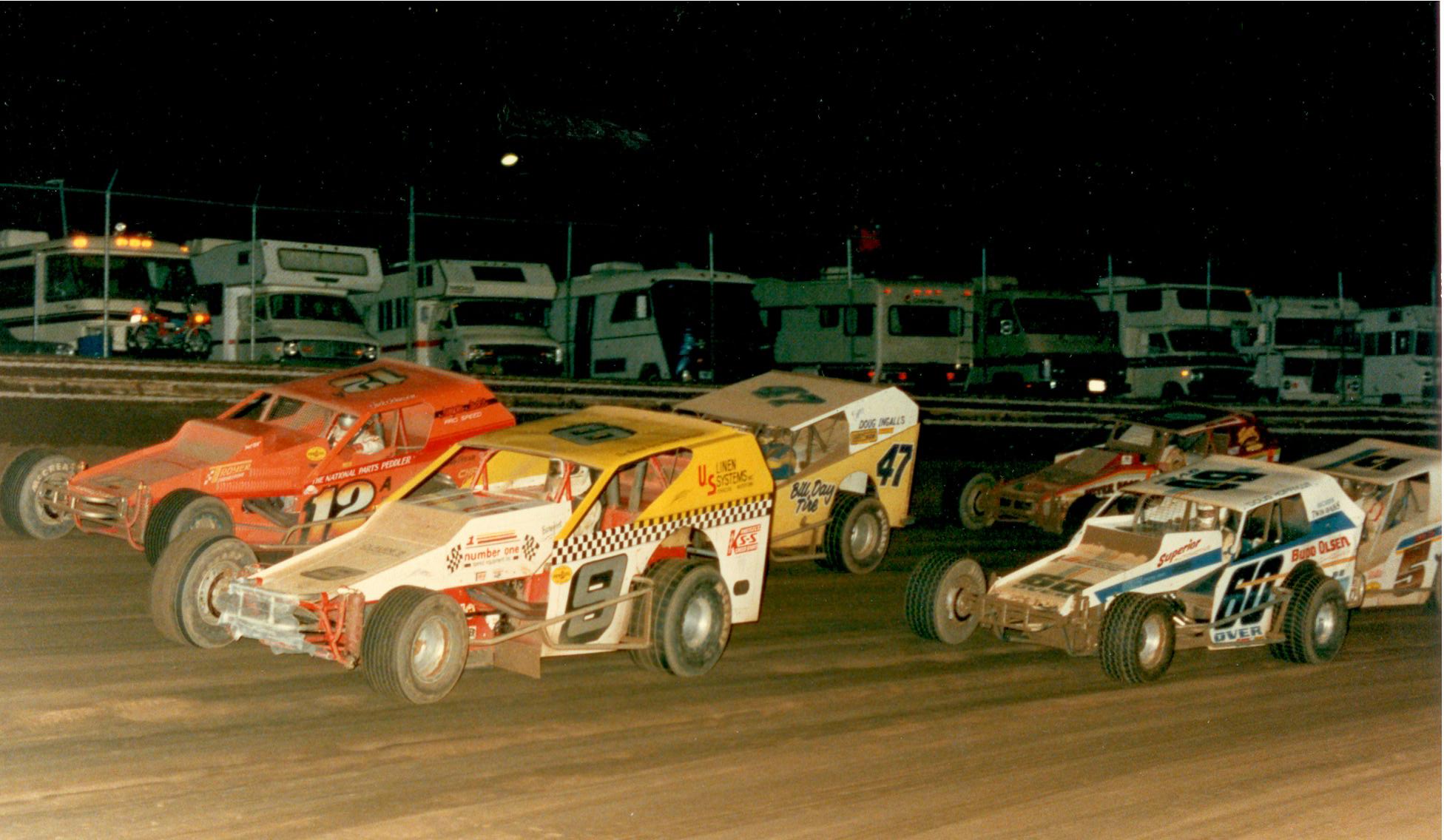 "It's a different atmosphere here at Oswego," McCreadie said. "I like the atmosphere here better, actually. The stress of Syracuse to get the cars perfect was so extreme. We race on short tracks. We put our Super DIRT Week car through tech here and it's covered in mud. It's good that we can do this. A lot of guys come here that couldn't run The Mile. Our cars were built to run short tracks, not a mile track at 150 MPH for 200 laps. That's why you had to purpose-build them for that track. They had to build them that way to get through tech. I think it's better at a shorter track."
Brother Tim McCreadie competed in the Demon 100 at Brewerton Speedway as well. The brotherly duo were stuck together all night. They drew for the same qualifying group and then battled amongst the top 10 drivers for nearly the entire 100 laps. 
There may have even been some contact when Jordan got around him mid-race. 
"I didn't even see him there," McCreadie said with a grin. "I asked him if I chopped him and he just laughed and said no. Maybe he was and was lying. I probably chopped him off. We were having a little bit of a battle back and forth. I never get to race with him. I hope he gets to run a Big Block more because he puts on a great show for everyone. It was just cool that we got to race with him and go halfway decent last night."
Running a sophomore season on the tour is the next goal once the year is over. 
"We are hoping to be back on the tour next year but we gotta finish up this year," McCreadie said. "There's a few more races and some travel left. We've had a lot of fun."
First, he'll look to add another McCreadie name to the NAPA Super DIRT Week record books this week.
There is still plenty of time to get your tickets to the 49th edition of NAPA Super DIRT Week. If you can't make it to the Clay Palace be sure to pick up a subscription to DIRTVision and catch all the action live.