Jimmy Phelps notches pole position, while defending champion Matt Sheppard will start the'200' from fourth place
The top six starting positions for the 2023 Billy Whittaker Cars 200 were locked in Thursday night during Low-E Insulation Qualifying at Oswego Speedway.
Of the nearly 80 drivers entered, Jimmy Phelps came out on top, securing the SRI Performance/Stock Car Steel Pole Award with his lap of 21.810 seconds, setting himself up for a run at his first career Billy Whittaker Cars 200 title.
"I think we have a good baseline and a good idea of what we needed to come here," Phelps said. "(My team) did a really good job in the shop the last couple of weeks preparing the car. I thought we unloaded quick, and we started finding some speed in last night's second session, and today we just fined tuned… Obviously, the goal is to win Sunday, but this certainly takes the edge off."
Two-time Super DIRT Week champion Mat Williamson showed speed of his own, clocking an impressive 21.824 second lap to win the Fratto Curbing Outside Pole Award. Williamson will join Phelps on the front row for Sunday's '200' Feature, looking to battle for his third career title.
"I like Oswego when it gets slippery," Williamson said. "It's a place that fits my driving style. I like a tight race car, (I can) drive off the right front… Obviously, we wanted to Quick Time, but to be second by .014 is nothing to hang our heads about."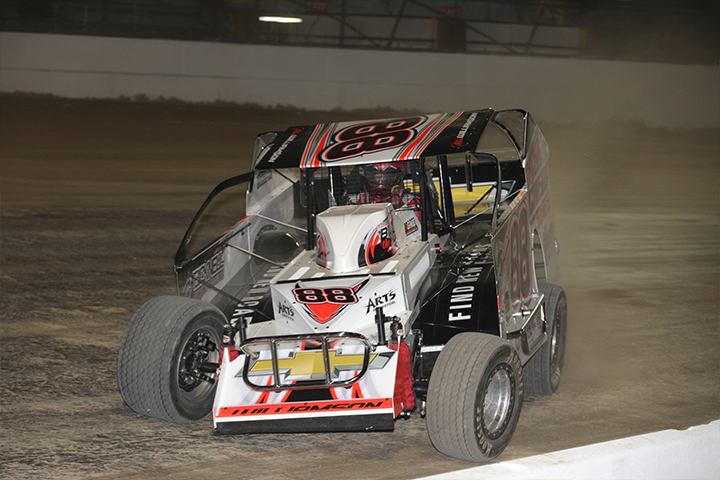 Second-year full-time Super DIRTcar Series driver Adam Pierson drove his way into elite company for Sunday's Feature, notching the third quickest overall qualifying time. Pierson delivered an impressive run during last year's Billy Whittaker Cars 200, running as high as third.While he's excited about his career-best starting spot, he isn't getting ahead of himself.
"(Sunday) is going to be awesome, because we locked ourselves into a starting position," Pierson said. "Being out in front with some good guys, we should be able to pace ourselves, and just kind of go from there. If we can save our car until the end and do the right fuel deal, and wait, and (think about) the tires, it still all has to click."
Three-time and defending '200' champion Matt Sheppard will start his run for back-to-back titles from the outside of row two after qualifying fourth. Last year, the Waterloo, NY driver was able to sweep the DIRTcar 358 Modified Salute to the Troops 150 and the Billy Whittaker Cars 200.
Stewart Friesen, another repeat '200' winner, with five wins of his own, piloted his #44 machine to a fifth-place starting spot.  The Niagara-on-the-Lake, ON driver last took home the checkers in the prestigious race in 2016 – when Super DIRT Week debuted at Oswego Speedway.
Consistency paid off for Erick Rudolph to round out the top six. He and Dalton Slack logged their fastest lap at 22.126 seconds. However, the tiebreaker went to Rudolph as his other qualifying lap of 22.127 seconds was quicker than Slack's 22.280 second lap.
Rudolph is the 2008 Super DIRT Week Sportsman champion, but, like Phelps, he'll be on the hunt for his first Billy Whittaker Cars 200 victory.
The Super DIRTcar Series Big Block Modifieds return Friday (Oct. 6) for their Qualifying Heats and Last Chance Showdowns.
FULL FRIDAY SCHEDULE:
12pm (Noon) – Grandstand Opens
12:50pm – Opening Ceremonies
1pm – DIRTcar Sportsman Qualifying Heats
Super DIRTcar Series Qualifying Heats
DIRTcar Pro Stock Last Chance Showdown (if needed)
DIRTcar 358 Modified Last Chance Showdowns
DIRTcar Sportsman Last Chance Showdowns
Super DIRTcar Series Last Chance Showdowns
DTD Live (Post-Race)
9pm – DJ Party at Island Stage
For tickets to Super DIRT Week 51, CLICK HERE.
If you can't make it to the track, you can watch every lap of the event live on DIRTVision.
DIRTCAR BIG BLOCK MODIFIEDS
Qualifying (2 Laps): 1. 98H-Jimmy Phelps, 00:21.810[25]; 2. 88-Mat Williamson, 00:21.824[10]; 3. 215-Adam Pierson, 00:22.029[11]; 4. 9S-Matt Sheppard, 00:22.056[23]; 5. 44-Stewart Friesen, 00:22.065[14]; 6. 25-Erick Rudolph, 00:22.126[55]; 7. 3RS-Dalton Slack, 00:22.126[66]; 8. 8H-Max McLaughlin, 00:22.151[59]; 9. 4*-Anthony Perrego, 00:22.153[28]; 10. 91D-Billy Decker, 00:22.218[30]; 11. 12-Darren Smith, 00:22.219[54]; 12. 9-Marc Johnson, 00:22.240[74]; 13. 35-Mike Mahaney, 00:22.249[45]; 14. 21A-Peter Britten, 00:22.268[63]; 15. 37S-Gary Lindberg, 00:22.271[64]; 16. 62S-Tom Sears Jr, 00:22.275[36]; 17. 15-Todd Root, 00:22.297[7]; 18. 4V-Billy VanInwegen Jr, 00:22.332[20]; 19. 3H-Justin Haers, 00:22.334[26]; 20. 26-Ryan Godown, 00:22.340[46]; 21. 22T-Tanner Van Doren, 00:22.379[65]; 22. 28-Jordan McCreadie, 00:22.389[5]; 23. 7D-Tyler Dippel, 00:22.395[49]; 24. 83X-Tim Sears Jr, 00:22.415[50]; 25. 91-Felix Roy, 00:22.420[32]; 26. 2-Jack Lehner, 00:22.428[51]; 27. M1-David Marcuccilli, 00:22.428[40]; 28. 66W-Derek Webb, 00:22.428[69]; 29. 15X-Justin Stone, 00:22.429[18]; 30. 32R-Ronald Davis III, 00:22.443[29]; 31. 9X-Tyler Trump, 00:22.444[19]; 32. 7Z-Zachary Payne, 00:22.449[16]; 33. 70A-Alex Payne, 00:22.451[22]; 34. 18R-Brad Rouse, 00:22.459[2]; 35. 58M-Marshall Hurd, 00:22.465[21]; 36. 5H-Chris Hile, 00:22.472[62]; 37. 66-Tim McCreadie, 00:22.475[52]; 38. 19-Tim Fuller, 00:22.481[70]; 39. 27J-Danny Johnson, 00:22.484[3]; 40. 34-Kevin Root, 00:22.503[67]; 41. 29-Ryan Krachun, 00:22.512[38]; 42. 28T-Michael Trautschold, 00:22.524[35]; 43. 99L-Larry Wight, 00:22.528[24]; 44. 48TOO-Dave Rauscher, 00:22.530[53]; 45. 27JR-Daniel Johnson, 00:22.548[41]; 46. 35L-LJ Lombardo, 00:22.552[37]; 47. B2-Bob Henry Jr, 00:22.567[8]; 48. 60-Jackson Gill, 00:22.570[76]; 49. 39-Kyle Coffey, 00:22.581[61]; 50. 26R-Corey Cormier, 00:22.596[78]; 51. 22-Brandon Walters, 00:22.601[44]; 52. 84Y-Alex Yankowski, 00:22.613[12]; 53. 7L-Rick Laubach, 00:22.622[6]; 54. 20-Brett Hearn, 00:22.625[9]; 55. 6-Robert Bublak, 00:22.641[56]; 56. 29C-Matt Caprara, 00:22.651[72]; 57. 6S-Matthew Stangle, 00:22.663[43]; 58. 82-Gary Tomkins, 00:22.666[13]; 59. 49-Billy Dunn, 00:22.669[73]; 60. 9M-Tyler Meeks, 00:22.676[31]; 61. 8-Rich Scagliotta, 00:22.682[17]; 62. 21C-Brian Calabrese, 00:22.756[1]; 63. 63-Jarrett Herbison, 00:22.857[15]; 64. 713-Tommy Collins, 00:22.862[39]; 65. 27W-Nick Webb, 00:22.945[75]; 66. 3-Chris Mackey, 00:22.958[60]; 67. 02-Roy Bresnahan, 00:22.988[71]; 68. 54-Steve Bernard, 00:23.031[68]; 69. 14S-Brian Swarthout, 00:23.047[33]; 70. 14-CG Morey, 00:23.133[58]; 71. 16-Aaron Jacobs, 00:23.211[4]; 72. 7-Troy Sperring, 00:23.248[27]; 73. 17-Marcus Dinkins, 00:23.353[47]; 74. 63R-Adam Roberts, 00:23.364[34]; 75. 18S-Sean Beardsley, 00:23.377[77]; 76. 1NY-Gregory Atkins, 00:24.035[57]; 77. 36-Brian Whittemore, 00:24.541[42]; 78. (DNS) 11S-Steve Lewis Jr, 00:24.541