With his fourth consecutive win in the Hurricane Harvey 75, it's nearly become Mat Williamson's tradition of going to Brewerton Speedway on the Wednesday night of Super DIRT Week and winning the famed DIRTcar 358 Modified main event.
Williamson, the two-time Super DIRT Week champion from St. Catharines, ON, won a relentless battle for the lead with Jordan McCreadie, enduring a lap-after-lap, inside-outside chase for the top spot in the second half of the Feature to score the $4,000 check and his third 358 Modified Series win in six starts this year.
He's now won the last four editions of the track's marquee event – honoring longtime promoter Harvey Fink – going back to his first event win in 2019.
From sixth on the starting grid, Williamson worked his way up to third before one particular caution period on Lap 28. Following Jordan McCreadie coming to the restart, Williamson immediately pressured McCreadie and would not go away.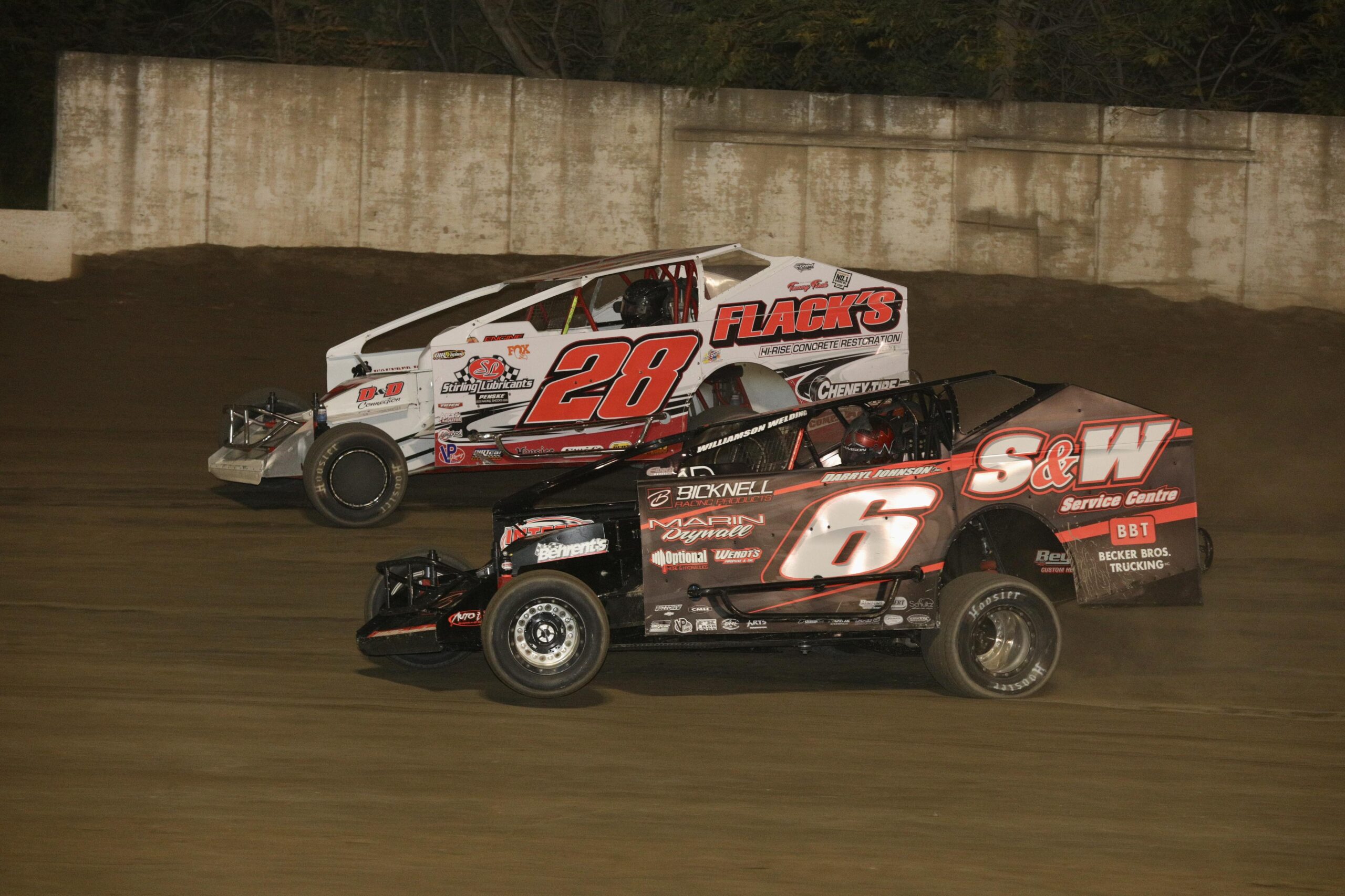 "I was being very patient; I probably could've slid him a couple times, but I wanted to put on a good show for the fans, and Jordan's always raced me clean," Williamson said. "I didn't wanna risk driving into Turn 3 and clipping him by chance if I wasn't clear on the slider."
In an effort to maximize speed, Williamson began entering Turn 1 on the high side and cutting down toward the bottom out of Turn 2. Several times Williamson pulled up beside McCreadie down either straightaway but was unable to make the move.
Multiple times in Turn 3, it appeared as though Williamson had a shot to put a slide job on McCreadie for the lead but would not complete the slide up the track in Turn 4. Instead, he left McCreadie a lane on the top.
"I knew I had a good car; I didn't really want to wait that long, to be honest," Williamson said. "I felt like I was gonna get by him and then the caution came out two or three times. But he ran a great race."
Cat-and-mouse, lap-after-lap, the two battled for the top spot for nearly 25 laps, but McCreadie was able to retain the lead. That was, until a Lap 55 restart, where Williamson snuck under McCreadie for the lead going into Turn 1 and completed the slide up in front of him to seal the pass out of Turn 4.
From that point forward, it was all Williamson out front. He survived one final restart on Lap 68 and brought the field back around the collect the checkered.
McCreadie was able to hang on for second and indicated that his car could have been better toward the end of the race.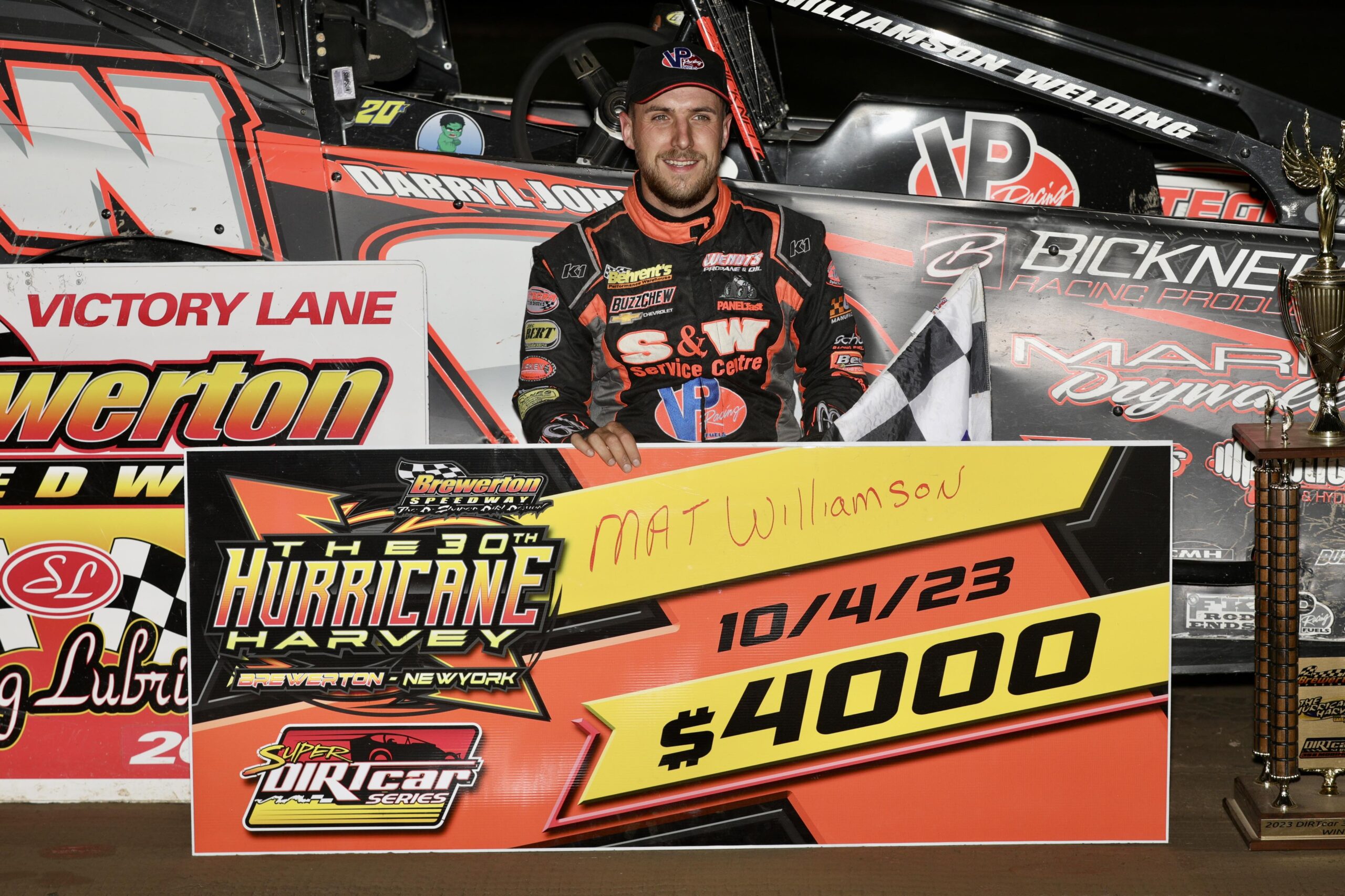 "Tonight, we made adjustments, and they were the right ones it felt like for the first 50," McCreadie said. "And then for the last 25, it seemed like we needed a little bit more to continue the speed we had early."
A runner-up to Williamson at Brewerton is nothing to hang a head about, and McCreadie was glad to have started his Super DIRT Week off on the right foot.
"To be able to come out here and run good against somebody like Mat and the years that he's been so good here, it says a lot for how good this car was going," McCreadie said.
RESULTS
Feature (75 Laps): 1. 6-Mat Williamson[6]; 2. 28J-Jordan McCreadie[1]; 3. 29-Matt Caprara[9]; 4. 91-Felix Roy[12]; 5. 3J-Marc Johnson[11]; 6. M1-David Marcuccilli[7]; 7. 49-Billy Dunn[27]; 8. 19C-Brandon Carvey[2]; 9. 83X-Tim Sears Jr[4]; 10. 5H-Amy Holland[8]; 11. 35-Mike Mahaney[21]; 12. 01-Chris Raabe[17]; 13. 215-Adam Pierson[16]; 14. 15X-Justin Stone[13]; 15. 7MM-Michael Maresca[5]; 16. 60-Jackson Gill[25]; 17. 31-Corey Barker[20]; 18. 20-David Schilling[26]; 19. 22-Noah Walker[15]; 20. J82-Will Shields[22]; 21. 39-Ryan Bartlett[28]; 22. 117JR-CJ Castelletti[29]; 23. (DNF) 3-Chris Mackey[30]; 24. (DNF) 31W-Lance Willix[14]; 25. (DNF) 24K-Nick Krause[19]; 26. (DNF) 99L-Larry Wight[18]; 27. (DNF) 70A-Alex Payne[3]; 28. (DNF) 12-Darren Smith[10]; 29. (DNF) 28-Alan Fink[23]; 30. (DNF) 63-Jarrett Herbison[24]