Super DIRT Week is Racing's Biggest Party, A New York Tradition, showcasing the best drivers in the Northeast and Mid-Atlantic as they tackle the historic Steel Palace, Oswego Speedway. The annual pilgrimage for thousands of race fans from across the United States and Canada runs October 5-10, 2022.  NAPA Super DIRT Week was awarded the 2015 Newsmaker of the Year Award and the 2011 National Speedway Directory Outstanding Annual Short-Track Event.
Super DIRT Week has been racing's biggest party every year since 1972.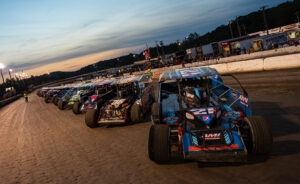 News
Super DIRTcar Series drivers will have six chances to lock themselves into the prestigious Billy Whittaker Cars 200 at Super DIRT Week 51 this year. Six events – across four tracks – will award six drivers with the illustrious prize, guaranteeing them a starting spot in the 200-lap Feature at Oswego Speedway on Sunday, Oct.